.Wed 12th Sept 2018 Doors 7.30 / Stories start 8pm £7/8 incl cocktail
Three Around Three / Tri o Bob Tri The Story of Rhiannon told by Tamar Williams
Three Around Three
is a new commission supported by the Gwobr Esyllt Harker Award andpremiered at Beyond the Border
International Storytelling Festival 2018 to great acclaim.
Three Around Three interweaves story, song and spoken word. It is a retelling of the first branch of the Mabinogion.
Tamar Eluned Williams
Previous performance work includes Green Man Festival, Aberystwyth Storytelling Festival,Settle Stories, Eisteddfod Genedlaethol Cymru,
Birmingham Book Festival, National Storytelling Week and Tales in Trust. She works in schools, museums and theatres across South Wales.
She is a puppeteer and performer for PuppetSoup, a Creative Associate of Rambling Heart, and one half of the Greenbank Hags, who
curate and produce STORYPUB in Bristol. She was awarded the Gwobr Esyllt Harker Award by
Beyond the Border International Storytelling Festival in 2016 and the National Young Storyteller of the Year Award in 2013
(Nell Phoenix and Hugh Lupton were judges!)..
StoryNight is At:
99 Torriano Avenue, Kentish Town NW5 2RX
Nearest tube Kentish Town + 7 min walk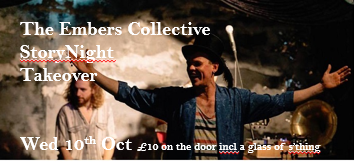 WED 10th OCT Doors 7.30 ; stories start 8pm
£10/8 on the door
Embers Collective StoryNight Takeover
'Every time we tell a tale, we are stirring the embers of our ancestors'.

The Embers Collective is a London based storytelling and live music group.
Formed by three friends; a writer, an actor and a musician in 2016.
Driven by a passion for the art of sharing stories we wanted to put on events with a focus on community and connection.
We adapt world mythology, weaving stories and songs into a live, evolving musical landscape.
We put on regular events in venues, festivals, forests and fields all over the UK and beyond.
Welcome to our warm embrace.
Wed 14th Nov Doors 7.30 / Stories start 8pm
£8/7 on the door incl warming cocktail
THE FLAMING QUEEN
When a poor young woman stumbles into the gilded halls of luxury she can't believe her luck.
Money, power and status: all hers for the taking…if she'll do just one little thing.
Join Lucy Lill on a journey from poverty to power, via the hot sweat of the underworld as she asks:
What would you do for everything you've ever wanted?
Lucy Lill is a London-based performer. She's told stories at The Wellcome Collection, Kew Gardens, Half Moon Young People's Theatre,
Newbury Corn Exchange, Fireside Festival Art in Action Festival and others, as well as schools across London for
The Literacy Trust and The Latin Programme. She co-runs Story Jam, a regular storytelling night for adults. https://storyjamjar.com/
'Listening to Lucy Lill is like a cool glass of water on a hot hot day.
Her stories are clear and lucid, and whilst her insights are profound, she wears her learning lightly – she is witty and funny, equally at home in Greek Myths or Alaskan folk tales.' - Sarah Rundle
'A masterclass in how storytelling can break your heart and stitch the pieces back together in a new shape.' - Stephe Harrop, The Juniper Tree
Wed 12th Dec Doors 7.30 / Stories start 8pm
£8/7 on the door
Clare Murphy tells... details to follow!